Occupational Therapists (OTs) aim to support you to be as independent as possible so you can start or continue the occupations of everyday life that are meaningful to you. Occupations of everyday life include: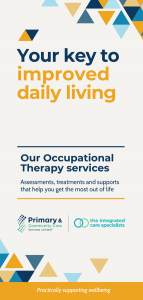 Activities of daily living: Self-care such as showering, grooming and eating
Household & community functioning: Home maintenance, driving, budgeting, shopping and community mobility
Education: Activities to enable effective participation in a learning environment
Leisure and play
Social participation: Interacting positively with others in the community
Work (paid and unpaid): Participating in employment and volunteer activities.
The OTs here at PCCS are fully qualified experts in physical and mental health, disability and  the National Disability Insurance Scheme (NDIS).