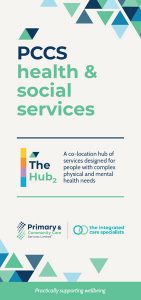 Just a few doors south of Hub1, PCCS has many of the health and social services our clients need to access, right together in our new Hub2.
When accessing the supports you need to live your life or continue your recovery, it can be challenging to get around the city to the various associated appointments with GPs, specialists and allied health practitioners. Adding to that, there's Centrelink, disability employment and other rehab services creating quite a list of providers that may need you to visit, exchange referrals and other paperwork.
That's why PCCS created The Hub2 – we want to keep the services and supports you need within easy reach of each other and alleviate the stress associated with managing complex health issues. Operated by PCCS in conjunction with the Gold Coast Primary Health Network, the Hub2 provides an opportunity for integrated supports from a range of local service providers and partner organisations to base their outreach activities and further the health and wellbeing of Gold Coast residents.
"We are passionate about integrating care options as best we can. The easiest and best solution for our clients is to have everything under one roof," said Dr J.R. Baker, CEO at PCCS.
A core service is the medical practice with GP and nurse operating out of Hub2 and the services from partnering organisations are chosen to complement the PCCS services already offered to local clients, including the social prescribing program Plus Social and the associated after-hours drop-in service at Hub1 (located a few doors North at 2580 Gold Coast Hwy).
The Hub2 is open 9am-5pm weekdays. It is located at 2570 Gold Coast Highway, Mermaid Beach 4218. Give us a call on 07 3186 4000 to discuss your needs with our friendly team.