PCCS has won the inaugural Banksia Sustainability Award in the Health & Wellbeing category.
The Banksia Foundation is a not-for-profit organisation that believes in the power of social and environment impact through community engagement and sustainable businesses practices. Through the National Banksia Sustainability Awards, now in its 33rd year, it recognises and encourages sustainability excellence, showcasing changemakers that inspire and enable sustainability innovation, and builds purposeful communities for sustainable development across Australia.
The social prescribing model by PCCS supports broader wellbeing by addressing the social determinants of health as well as bridging the gaps between medical care, mental health, community services and the social services sector. The judges praised the model for "providing GPs with a broader perspective", adding that social prescribing has the potential to revolutionise mental health care and maximise the use of social and community infrastructure which is already in place.
PCCS CEO Dr J.R. Baker accepted the award at the ceremony in Melbourne. In his speech he took the opportunity to highlight the importance and value of social prescribing in assisting our local communities.
"Social scripts are more known in the UK and overseas but not as known here. COVID certainly has shown us why we need social scripts: loneliness and social connection, disadvantage, poverty, food security."
He called on the community and social sector to adopt a model of care that would benefit society by linking people into groups and activities.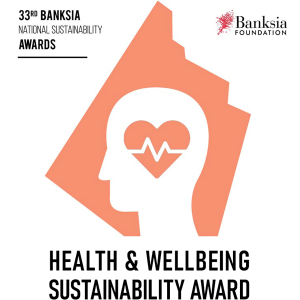 Dr Baker closed out his speech with the hope that communities across Australia would have access to social, emotional, and environmental supports they need for the coming years.
PCCS thanks the Banksia Foundation for the recognition and congratulates the other Banksia Award finalists and winners. Visit The Banksia Foundation for more information.